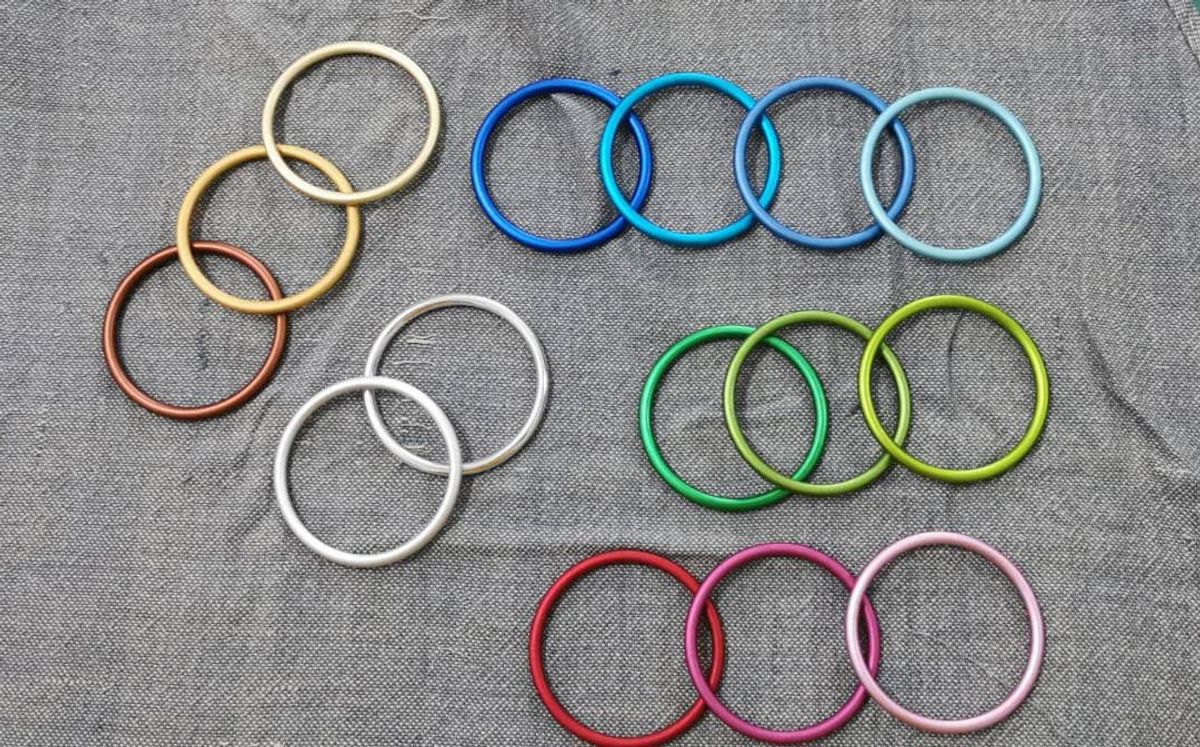 A ring sling is one of those packs-small, light and versatile type of sling-carrier there is. Woven wrap on the other hand is a long fabric that has special characteristics influenced by the weave pattern, fibre content and also colours and design that give it a unique aesthetics. It is no wonder many baby wearers love to combine these together thus they send in their wraps to our studio, to be converted to a ring sling.
There is a way to simply tie a short wrap and wear it as a sling but no one can argue how easy a pair of specially manufactured aluminium rings can make wearing and it adjusts much easier.
So you have a long/short wrap with you but not sure if the length is suitable for a ring sling? or perhaps you would like to estimate how much remnant that's left so you can decide what to do with the leftovers? Like Stork Wrap Conversion for example.
Here's a simple guide to the length of wrap we need to convert to a Wrap Conversion Ring Sling and estimation of the remnant.
Partner in Crime
This could be the best way to convert a long wrap to ring sling(s). With a size 5 wrap (4.2 m), and a friend to share it with, you can split the wrap dead centre and make a maximum of size L (80") Ring Sling. This length is quite ideal for a person of medium or large built with a height of about 165 cm.
If you look at the sketch below. We allow about 10 cm for the shoulder fold (or hem), this is the part where the fold holds the pair of aluminium rings.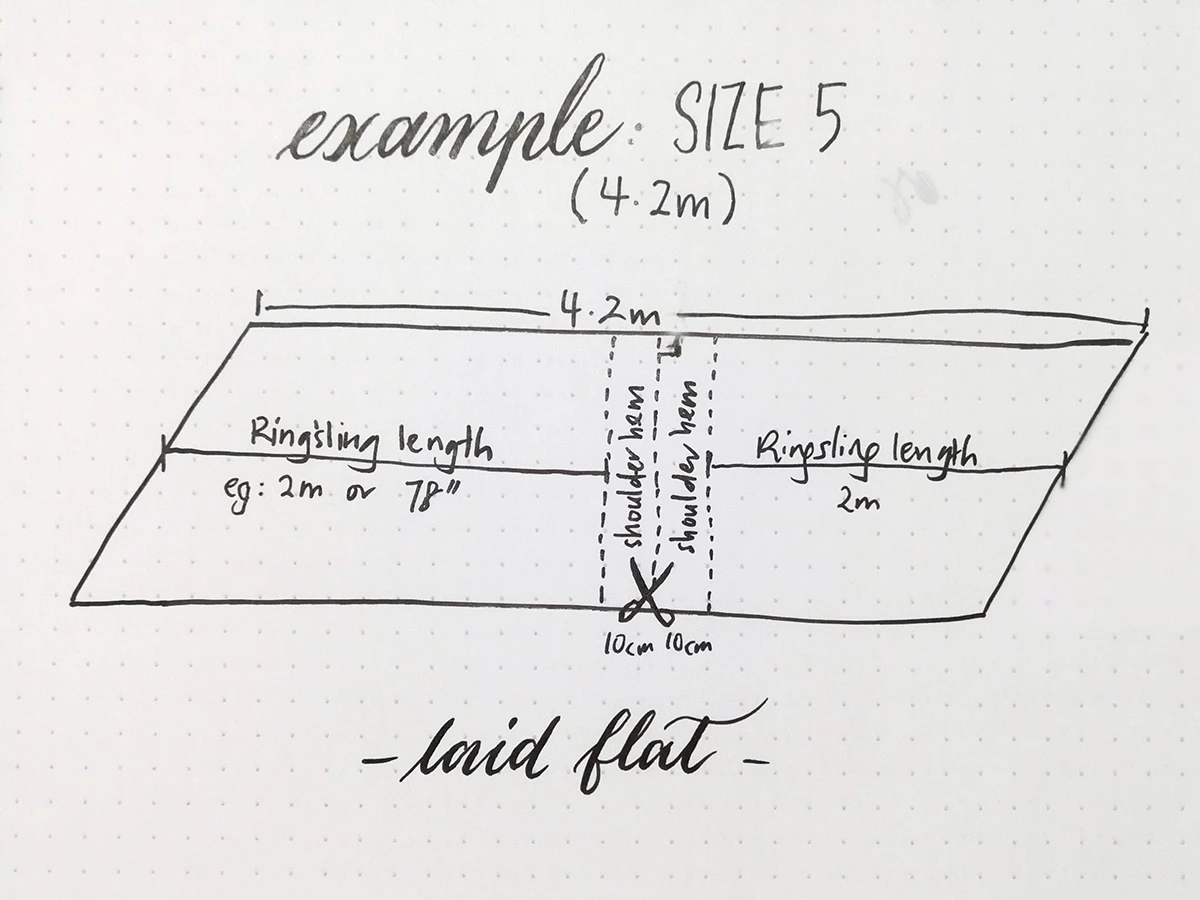 So based on this, you can give and take the resulting of ring sling #1 and ring sling #2 based on the type of shoulder style that you would like to use for your ring sling.
SBP shoulder requires 3" shoulder hem
Eesti shoulder requires 4"1/2 for shoulder hem
Gathered shoulder required 5"1/5 for shoulder hem
In most cases, customer requests for a size M (75") ring sling, resulting in a small strip of a remnant from the middle section of the wrap. This remnant can make a few key fobs, sometimes there can be enough to make a pair of drool pads.
The shoulder style will influence how much extra fabric we require for the shoulder fold/hem.
From this sketch also you can imagine the bigger middle strip remnant if you use size 6/7 to make 2 ring slings.
You can provide the rings or purchase the rings from us, we have many colours! They are at RM22.00/pair. Check out available colours in our SHOP DIY section.
The price for these 2 WCRS is RM66.00 if you decide to provide your own rings. The total would be RM110.00 if you select the rings from us. Price is not inclusive of shipping.
Going Solo
If you are sending us a shorter wrap (size 4 [3.7m] and shorter), chances are only one ring sling can be made from the given length. You can opt for a super short ring sling if you would like to have more wrap balance for a project you have in mind. Super short is usually 60" or below. You will have really short ring sling tail and be aware that if you are tall or on the bigger body size side, this length may be inadequate for you to comfortably carry your baby.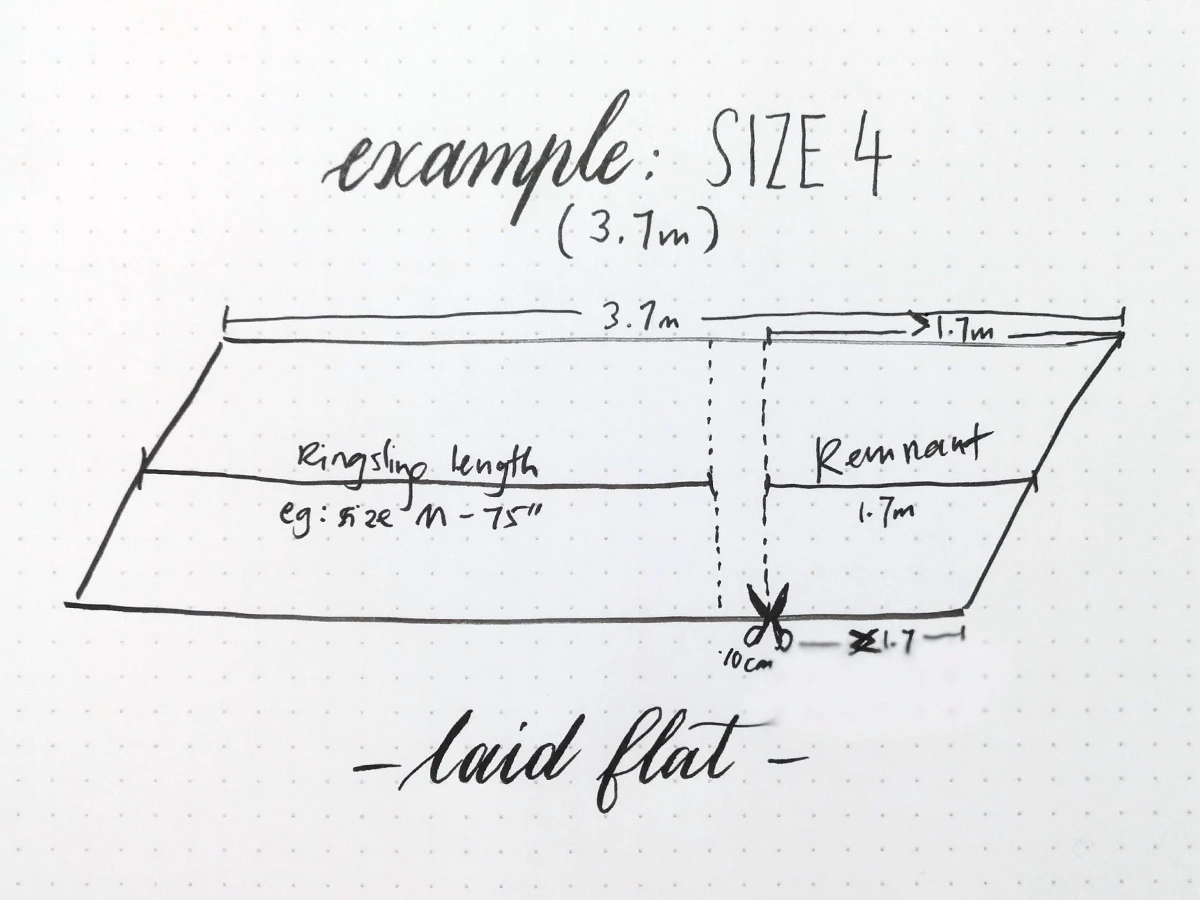 So you can see in this example, how we cut your wrap if you were to get a size M (75") ringsling. Again, the shoulder style influence how much extra fabric we require for the shoulder fold/hem. In this example, you will receive about 1.7m of remnant and I would say this is not a true length, because it is a trapezoid shape. So when you estimate the length of remnant you will be left with, remember that wraps have tapered/slanted ends. Some wrap has a steeper angle so do take into account the taper angle as well when estimating the amount of remnant for your other project.
So one wrap ringsling conversion like this is quite straightforward, the price is RM33 if you provide the rings, and RM55 if you purchase the rings from us, not inclusive of shipping.
Contact us if you have a wrap you would like us to convert for you.
Hope this short explanation of the wrap length needed for wrap conversion ring sling helps you with your wrap conversion projects. Drop a comment if you have any questions at all, I may discuss shoulder styles in my next blog post. Stay tuned!
Reference:
https://www.snuggbaby.com/wrap-conversions
https://www.snuggbaby.com/wrap-conversion-ringslings
https://www.snuggbaby.com/product-page/wrap-conversion-ringsling
https://www.snuggbaby.com/product-page/aluminium-rings-for-slings-pair