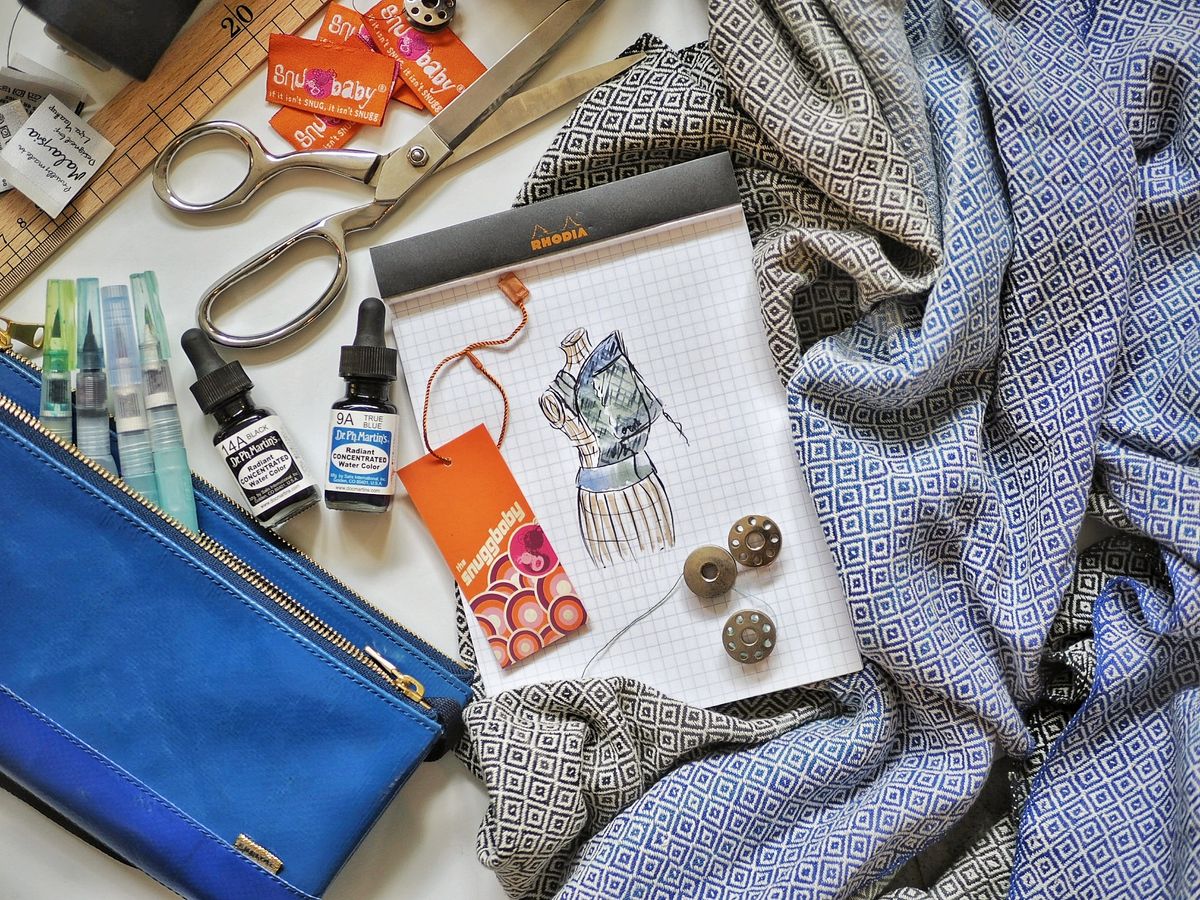 Do you still remember the first wrap you ever bought? Mine was an Ellaroo, made in Guatemala. It was so treasured and handled delicately when it's first arrived. Not knowing much then but it was a really good summer wrap, great for our weather. I'm not sure if they still make them. We all know what happens next though, I started buying and selling them wraps, and after about 5 or 6 purchases, I started chopping them!
I have chopped hundreds of wraps to date and dealt with so many pieces of remnants, huge 2-3m one, tiny square ones, in our studio, of course, one common question we would get is what can I make out of the remnants.
First I will define the difference between remnant and scraps.
Remnants:
Significant size wrap fabric left from cutting away important pieces to construct the main product like carrier or sling. By significant, I would mean that it has to be bigger than the size of the palm of the hand. The remnant pieces are always saved, packed and returned to the sender together with the completed products.
Scraps:
When cutting to make carriers especially we will remove away tiny portions of wrap fabric, the parts that we remove will be in odd shape with no parts of significant measuring bigger than palm since with concave sides that you can't use to construct anything. This scrap fabric is always discarded unless specifically instructed to be saved and returned to the sender.
Here I shall list down the items that can be made out of your remnant fabric together with the size estimation. This is to serve you as a guide. A full consultation will be provided when you send in your wrap to convert with SNUGGbaby. We like to be thorough, we usually would discuss the pattern alignments and such so you can get the most out of your remnants.
Wrap Remnants Products

A Pair of Matching Drool Pads - RM29.00
This would be the most common item that is requested to be made out of the remnant.
It can be a really functional item especially if your baby loves to suck and chew your shoulder straps. It makes cleaning the carrier easier.
Spare Hood - RM40.00-RM54.00
One of the most asked items would be a second hood to be added into the order. A second hood is usually in a style different than the first and because our hoods are interchangeable just by snaps of 3 buttons, it is a quite nice additional accessory to have. A second hood costs about 40-54 depending on the type of hood you order. A more detailed explanation about hood types can be found here.
Stork Mini (doll carrier) - RM99.00
These are some samples of Stork Mini made so that the little one can carry a doll and prance around town (or somewhere safe with no crowd) and match perfectly with you, carrying the baby in your new Stork Wrap Conversion. Stork Mini has evolved quite a bit, in these photos the carriers behave like onbuhimo, the new ones though is more like a miniature Stork version.
Matching SNUGG Carrier Bag - RM89.00
These are our specially designed SNUGG Carrier Bag that made to carry a Stork carrier snugly. It has a drawstring closure, a handle and a sturdy base that is crafted with washable paper which is like a version of vegan leather. Pairing this material with wrap accentuates the colours of the wrap. There is no wrap conversion of this bag that we do not like.
SNUGG Phone Pouch - RM39.00
The phone pouch we make is designed to be attached to the shoulder straps. This attachment is especially suitable when you are doing back carry. The pouch can be attached to the front part of the shoulder straps then makes it easy for you to reach for your phone or any small items that you store here. When you order this pouch we will ask for the model of the phone you use and discuss the dimensions in more details.
Nifté Diaper Purse - RM120.00
This new product from SNUGGbaby is designed for mothers that need a small sling purse to store their essentials when they quickly need to run an errand outside with the baby. It has a zippered pocket inside, it can fit all the essentials with a spare diaper and wipes as well and a zipper closure so that your items will be more secure. It comes with a detachable strap which you can attach as a wristlet or shoulder strap. The structure of this purse is made sturdy with the use of washable paper that will accentuate the colours of the fabric and wrap.
SNUGG Hobo Sling Bag - RM79.00
This has become one of our most popular choices to make use of the wrap remnant. A spacious bag designed to fit a Stork Carrier, it has quickly become a bag with multiple uses. It is lined with cotton fabric and has two open pockets inside to slide in your phone or other essentials. It is closed with a button and the shoulder strap is tied to the length to your liking.
Key Fob and Lanyard - RM15.00
These kind of items are really useful to make use of the very small remnant from your wrap and quite useful for daily use as well.
We have more things that we can make out of your remnant but it is simply too many to compile and list down! We have made in the past, passport cover, convertible lunch pouch, small backpack for kindergarten and also wet bags. So if there's an item that you might want but not listed here, do enquire for a quotation, we will happy to assist.
Liza Yaakup
Updated 18/6/2021